BLACK BEAR HUNTING!
Our Black Bear hunting concession is located in remote north central Saskatchewan. We have the exclusive outfitting rights to over 400,000 acres of lakes, creeks and rivers, all encompassed by a continuous, thick forest, comprised of Spruce, Pine and Aspen. This region is well known for, not only LARGE mature Bear, but also it's high population and color phases.
Our 5 day hunts offer modern accommodations, lots of home cooked food, reliable transportation during the hunt, complete trophy care, as well as the professional attitude, guides and enthusiasm you expect and deserve when contracting your outfitted adventure.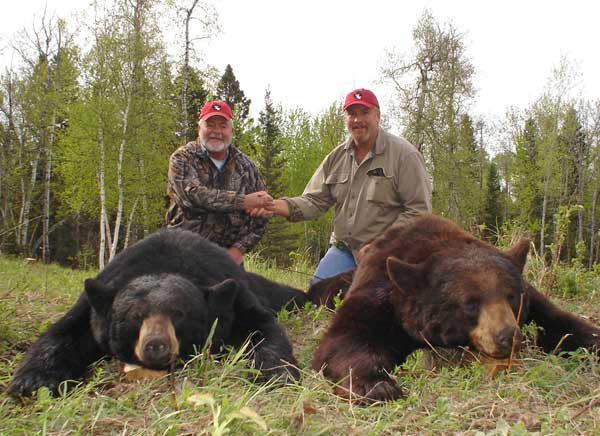 HUNTING METHOD

We run 1 main modern camp from which we can efficiently access our large area. From here, our professional guides take our clients by reliable trucks and ATV's to their stands, typically mid morning after a big breakfast. Wind direction, and of course Bear activity, are the major variables of consideration when choosing a clients hunting location for the day. Our clients can expect to potentially hunt different stands over the coarse of their hunt.
We maintain over 40 active stands, strategically situated along traditional travel routes and feeding locations. Various effective baits are then placed inside 45 gal. drums and securely fastened to a sturdy near by tree. The stands themselves are comprised of commercially built ladder stands or ground blinds, tucked out of sight a suitable distance from the bait, depending on the client's weapon of choice.
Bear activity generally peaks about an hour before sunset, however, unpredictable Black Bears, especially fully mature boars, can show themselves at anytime during the day. If a client is willing to put the time in they will enjoy multiple Bear encounters daily and If one does remain patient, 6 1/2 ft. to 7 1/2 ft sq. Bears are the norm with skulls sizes reaching over the magical 21" mark.